国庆节就要来临了,小编在此给大家简单介绍两处十一期间的航空主题活动。北有内蒙古阿拉善航空嘉年华,南有中国AOPA粤港澳航空嘉年华。
阿拉善航空嘉年华将于10月2日到6日在阿拉善梦想沙漠公园举行。预计5天的游客量将达到150万人。此次航空嘉年华上,观众将欣赏到包括马克·杰弗里斯和帕蒂·瓦格斯塔夫两位国际特技飞行大师的单机SOLO表演以及英国御风机翼行走、意大利开拓者、欧洲天空之舞、美国空中海报等数支国际知名特技飞行表演队所带来的精彩表演。筋斗,蝴蝶筋斗,筋斗开花,桶滚,半筋斗翻转,失速倒转,大坡度转弯等飞行特技都会在沙漠中上演。
每天傍晚,在腾格里沙漠中还会有晚霞飞行音乐秀。特技飞机伴随着电子音乐在空中燃放焰火并作LED灯光秀,打造一场梦幻的视听盛宴。
不知不觉,5 Minutes with AOPA-China 已经第20期了,Nick 和Claire也陪伴大家140天了,大家更喜欢哪位主持人呢?请在评论区写上他/她的名字及理由,评论点赞数最多的前三位将会获得AOPA送出的国庆大礼包哦~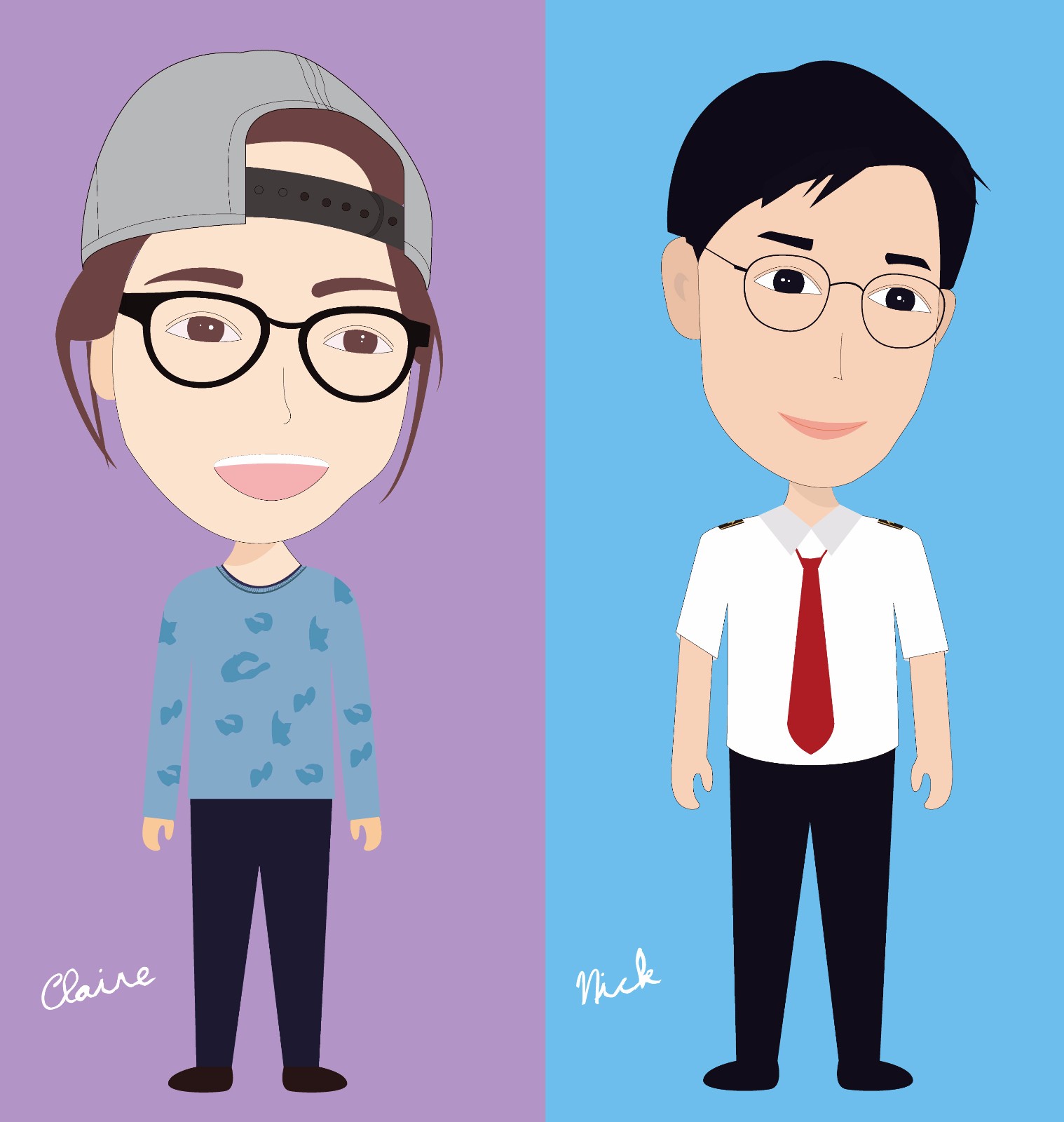 注:左边是 Claire,右边是Nick哦!
以下是英文部分
Nick: Hello, welcome to 5 Minutes with AOPA-China.This is Nick.
Claire: Hello everyone, this is Claire.
Nick: It's been a long time.
Claire: Yes, last time when we recorded podcast together, it was August. Now National Holiday is here. So, Nick, how are you doing lately?
Nick: Excellent (in Russian), I'm counting down to the National Holiday. Only 2 days to go! But I haven't decided where to go. There are so many choices.
Claire: Yes, indeed. I have already decided not to go anywhere. Just relax at home. I'm going to be travelling around on business soon so I really should take time to relax during the holiday. For your reference, there are some highlight events during the holiday.
Nick: Great. I'm all ears.
Claire: All right. China is such a big country with a rising aviation momentum. Many events are being held during the holiday. Among them, two are very distinctive.
Nick: Oh, really. What are they?
Claire: AOPA-China will hold the general aviation festival in Dongguan, Guangdong Province.We have discussed in our past episodes. While Aviation Carnival will be held in Alashan League lying in west Inner Mongolia. So if you happen to be travelling nearby, I'm sure you'd find these 2 events quite enjoyable.
Nick: wow. Sounds nice. The Inner Mongolia is near. Tell me more about it.
Claire: It's an aviation carnival held in desert. Trust me, the airshow will fill the skies with smokes, sounds and fury over the holiday from October 2nd to 6th, with world-class aerobatic performance. Around 1.5 million spectators are anticipated to be there.
Nick: Speaking of acrobatic performance, will ASB (AeroSuperBatics Wingwalking Team) be there?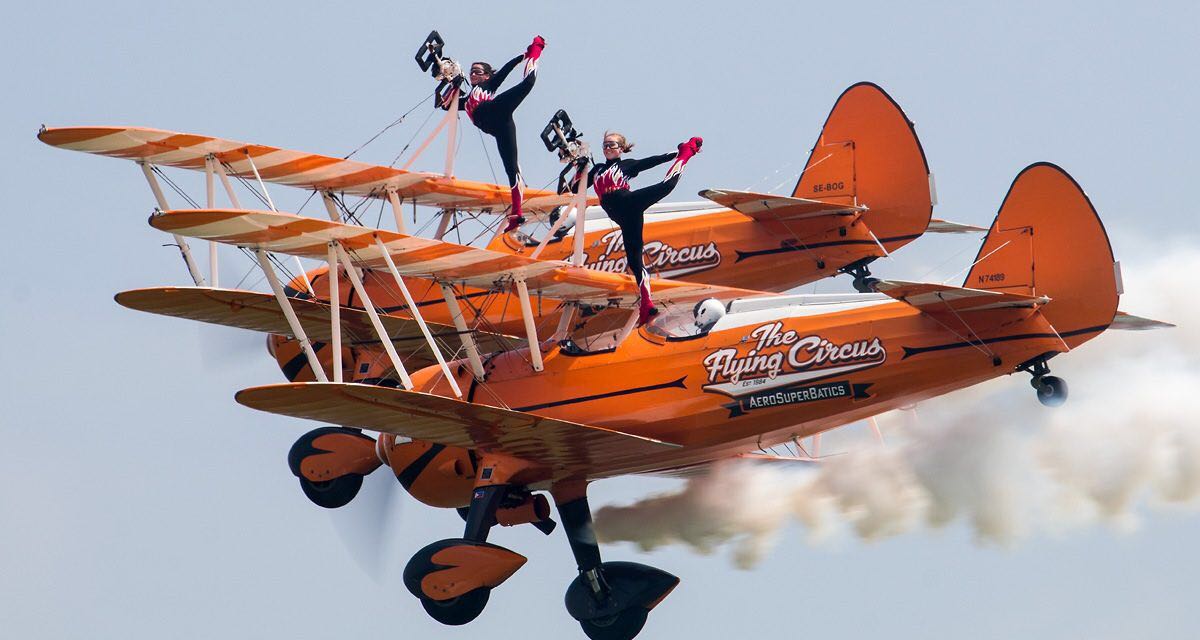 Claire: I think they have already arrived at the carnival.
Nick: It is one of my favourite teams and the team is recognized as the World's Only Formation Wingwalking Team. It is amazing and exhilarating to see the wingwalkers walk in the air.
Claire: You are in for a treat. They will perform a breathtaking sequence of aerobatic manoeuvres and handstands whilst strapped to the top wings of Boeing Stearman biplanes. These manoeuvres include loops, butterfly loops, rolls, and even inverted flight. During all of this, the wingwalkers experience speed of 150 miles per hour.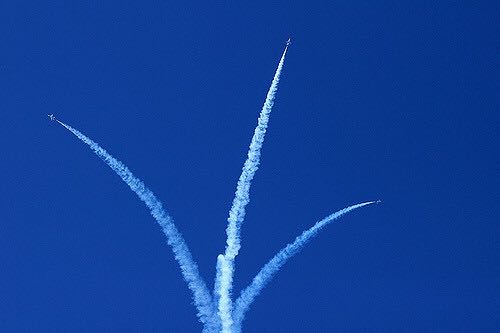 Nick: That's so thrilling, and those performers are girls. They will definitely add daring and glamour to the carnival.
Claire: Not only the wingwalkers, Skydance Airshow Team from Germany, Pioneer Team from Italy, Aviad, an American team of skywriting and skytexting will all be gathered at carnival. There is a lot to expect. Big names.
Nick: Let me check my phone for more information. I should book my ticket, like right away.
Claire: Wait, wait. After the show, you can arrange your splendid holiday.
Nick: Ok, ok.
Claire: The carnival offers marvelous evenings of aircraft flying displays, accompanied by lights and music. The evening show starts at around 6 pm. As the sun goes down, the aerobatics display will rise to the sky. When the sky is getting darker, you will appreciate Spitfire in the air, music and light, and fireworks, you can't miss such a unique visual-audio feast.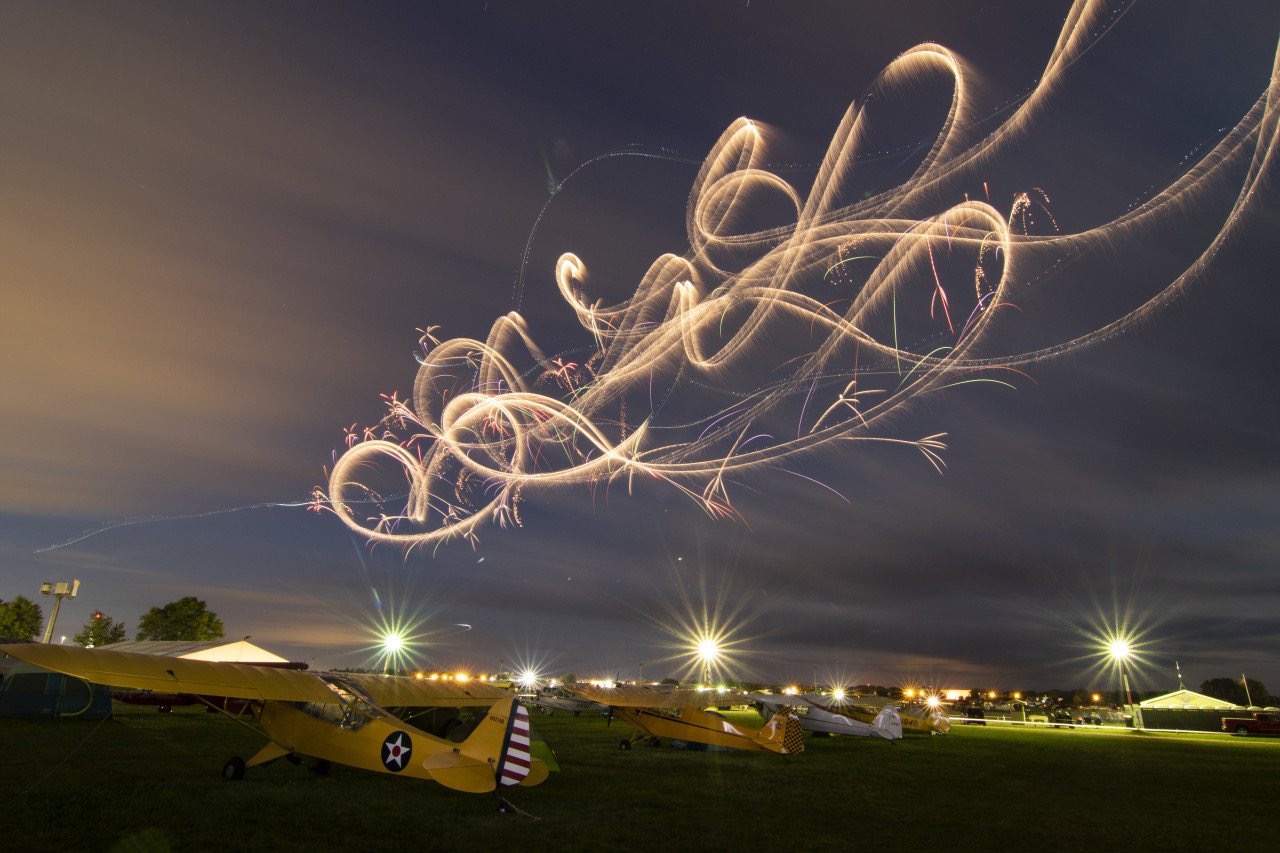 Nick: The best type. And the autumn weather together with the evening light could create some magical moments that everyone would love. However, there is one serious question. Where does one sleep in the desert?
Claire: Well, lots of options. You can put up a tent in the camping site.
Nick: Cool, that's good!
Claire: But you need to take some warm clothes as the temperature in desert can be pretty low in the morning and at night. Actually, the park also provides RVs, and accommodations with bathrooms and glass ceilings.
Nick: That must cost a lot too. Haha.
Claire: There are booths offering food, beverages and souvenirs. I love souvenirs. Shopping is another theme of holiday, isn't it?
Claire: To celebrate the National Day, this episode is a little bit special. We have this little interactive activity, and AOPA-China will send gifts to your doors.
Nick: All you need to do is to vote either for me or for Claire. Please write the name with one reason in the comment section. If the thumb-ups of your comment ranks the first three, a gift will greet you next week.
Claire: That's a easy way to get a gift. To decide which host you like more, you could take the previous episodes for reference.
Nick: We are looking forward to your votes and opinions. And at 5pm on weekdays, we have 5 PM Quiz in our Wechat group, if you want to join the quiz and communicate with aviation fans, please scan the QR code below.
Claire: That brings us to the end of today's 5 Minutes with AOPA-China. You can also listen to our podcast on Facebook, Twitter and Ximalaya. Don't hesitate to send us comments and messages on today's topic as well as the previous ones.
Nick: Happy National Day and see you next time.
Claire: Before you go. We will take a break on the 5th of Oct, during national holiday. So see you on the 12th of Oct.
Nick: Yeah, I have to run to book my holiday.
1.aerobatic manoeuvre:特技动作
2.pyrotechnic show:飞行烟火秀
3.loops:筋斗
4.rolls:横滚
5.stall turns:失速倒转
6.butterfly loop:蝴蝶筋斗
7.bomb burst:筋斗开花
8.ASB:AeroSuperBatics Wingwalking Team
英国御风机翼行走表演队